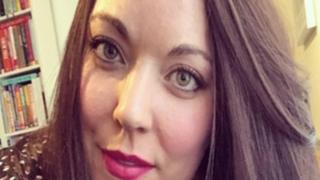 A man who beat his fiancée to death when he was "unwilling to accept" her decision to leave him amid a row over his cross-dressing has been jailed.
Roderick Deakin-White used a metal bar to launch a "savage" attack on Amy Parsons at their Whitechapel flat in April.
A trial at Snaresbrook Crown Court heard "jealous" Deakin-White attacked Ms Parsons as she was showering.
He was convicted of murder and sentenced to a minimum of 17 years.
The court heard Ms Parsons had become increasingly unhappy with her relationship, particularly due to Deakin-White's cross-dressing interest.
Prosecutor Gareth Patterson QC said: "She was unhappy about this and this was something he had often wanted to do when they were intimate."
Judge John Lafferty, sentencing, said Deakin-White killed Ms Parsons in a "most horrendous, savage and brutal way".
He told jurors Deakin-White became angry and jealous after Ms Parsons began a relationship with a colleague a few weeks before the killing.
Mr Patterson added: "Unwilling to accept that she was going to leave him, he used a metal bar to hit her repeatedly around the head while she was showering."
Deakin-White fled the flat before confessing to a man in Edmonton, who persuaded him to hand himself in.
In police interviews Deakin-White admitted attacking the 35-year-old with a metal bar but denied murder, claiming it was an "accident".
'Bright light'
At his sentencing, Ms Parsons' sister, Eve, spoke of her family's grief and described her as the "bright light" of the family and a "beautiful person".
"Nothing could have prepared me to deal with this loss," she said. "All of our family are as heartbroken as it is possible to be."
Judge Lafferty told the 38-year-old killer: "Your view was that if you can't have her, no-one can have her, and you killed her.
"There is no sentence I can pass upon you today that will bring back Miss Parsons – a young, successful, vivacious and kind-hearted young woman, whose life was brutally taken by you."
Speaking after the hearing, Eve Parsons, 40, said her family was "disappointed" by the length of the jail term and would be lodging an appeal.
"Seventeen years does not do her justice," she added.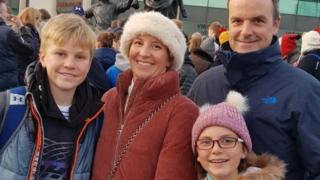 A mother and her two children were among six British nationals killed in the Easter Sunday bombings in Sri Lanka, an inquest heard.
Anita Nicholson, 42, and her children, Alexander, 14 and Annabel, 11, died instantly in an explosion at the Shangri-la Hotel in Colombo.
Lorraine Campbell, Bill Harrop and Sally Bradley also died in the blast at the Cinnamon Grand Hotel.
All six were unlawfully killed, the coroner recorded.
Mr Harrop, a retired firefighter and his wife, Dr Bradley, had been on holiday from their home in Australia when they were killed in an explosion at the restaurant of their hotel on 21 April.
The couple, originally from Manchester, had been described as soulmates.
Ms Campbell, an IT director who was originally from Manchester but had relocated to Dubai, was in Sri Lanka on a business trip. Her family has spoken of the "enormous void" created by her death.
Her partner, Neil Evans, told the inquest he knew something was wrong when she stopped replying to Whatsapp messages. He said he had lost his best friend, confidante and soulmate.
Ben Nicholson survived the blast which killed his wife and children.
Singapore home
The family had been visiting Sri Lanka from their home in Singapore having previously lived in Upminster, East London.
Mrs Nicholson, a lawyer for mining firm Anglo American, went to college in Thurrock, Essex and had been living in Singapore with her family since 2010.
Senior coroner for Essex Caroline Beasley-Murray recorded that all six were unlawfully killed as she concluded inquest hearings in Chelmsford.
She told the families: "You've lost loved ones in these most appalling of circumstances. I would like to express sincere condolences to you upon your tragic loss."
Mr Nicholson described his wife as "a wonderful, perfect wife" and a "brilliant mother to Alex and Annabel".
Who are the victims of the Sri Lanka attacks?
The six British Nationals were among 310 victims of a wave of bombings in Sri Lanka on Easter Sunday.
Two other Britons, brother and sister Daniel and Amelie Linsey, 19 and 15, were killed in the blasts.