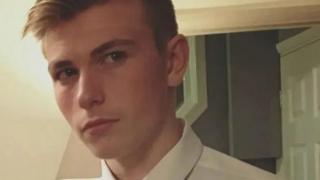 A man who recruited his parents and a group of his friends to kill a love rival has been jailed for life.
Daniel Grogan, 20, was "consumed with hatred and jealousy" of Jay Sewell, 18, after finding out he was seeing his ex-girlfriend, the Old Bailey heard.
Mr Sewell was attacked by a group of people in Lee, south-east London, on 11 December 2018.
Grogan was sentenced to life with a minimum term of 21 years having previously been found guilty of murder.
The court was told Grogan deliberately engineered a stand-off with Mr Sewell and his ex-girlfriend Gemma Hodder near to his family home.
Ms Hodder, 18, had driven her partner and some of their friends from Kent to see Grogan when they were set upon by a group armed with knives, hammers, a 4ft (1.2m) fireman's axe and wooden sticks.
Mr Sewell was fatally attacked through the car window while his friend Charlie Pamphlett was stabbed in the back but survived, jurors were told.
Judge Wendy Joseph QC said Grogan "desired only revenge on Gemma and Jay" and had been driven by "self serving anger beyond logic".
The 20-year-old was also jailed for five years for wounding with intent and three-and-a-half years for violent disorder, with the sentences to be served concurrently.
Other members of Grogan's family and friends also received jail sentences for their parts in the killing:
Grogan's 58-year-old father Robert, who had armed himself with an axe, was sentenced to 14.5 years for manslaughter, six years for wounding with intent and three-and-a-half years for violent disorder
His 55-year-old mother Ann was sentenced to seven-and-a-half years for manslaughter and three-and-a-half years for violent disorder to be served concurrently
His friend and neighbour Charlie Dudley, 26, of Grove Park, was jailed for 16 years for manslaughter, six-and-a-half years for wounding with intent and three-and-a-half years for violent disorder, to be served concurrently
His cousin Liam Hickey, 19, of Eltham, was sentenced to three years detention in a Young Offenders Institution for wounding with intent and two years for violent disorder, to be served concurrently
In an impact statement read in court, Mr Sewell's mother Sharon Louch said there was "no sentence this court or any other can pass which can come close to healing the pain or make up for not being able to look at my Jay's face or hear him laugh".
"Jay you were a blessing and made us proud from the day you came to us until the moment you were taken," she said.
Others were previously sentenced over the attack:
Francesca Grogan, 30, of Sibthorpe Road, was jailed for 12 months for violent disorder
Jamie Bennett, 32, of Sibthorpe Road, was sentenced to 20 months in prison for violent disorder
A 17-year-old boy, who cannot be named, was handed a nine-month rehabilitation order and a supervision order for violent disorder.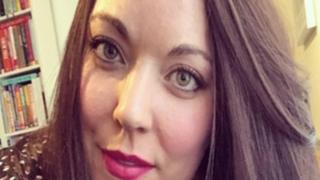 A man who beat his fiancée to death when he was "unwilling to accept" her decision to leave him amid a row over his cross-dressing has been jailed.
Roderick Deakin-White used a metal bar to launch a "savage" attack on Amy Parsons at their Whitechapel flat in April.
A trial at Snaresbrook Crown Court heard "jealous" Deakin-White attacked Ms Parsons as she was showering.
He was convicted of murder and sentenced to a minimum of 17 years.
The court heard Ms Parsons had become increasingly unhappy with her relationship, particularly due to Deakin-White's cross-dressing interest.
Prosecutor Gareth Patterson QC said: "She was unhappy about this and this was something he had often wanted to do when they were intimate."
Judge John Lafferty, sentencing, said Deakin-White killed Ms Parsons in a "most horrendous, savage and brutal way".
He told jurors Deakin-White became angry and jealous after Ms Parsons began a relationship with a colleague a few weeks before the killing.
Mr Patterson added: "Unwilling to accept that she was going to leave him, he used a metal bar to hit her repeatedly around the head while she was showering."
Deakin-White fled the flat before confessing to a man in Edmonton, who persuaded him to hand himself in.
In police interviews Deakin-White admitted attacking the 35-year-old with a metal bar but denied murder, claiming it was an "accident".
'Bright light'
At his sentencing, Ms Parsons' sister, Eve, spoke of her family's grief and described her as the "bright light" of the family and a "beautiful person".
"Nothing could have prepared me to deal with this loss," she said. "All of our family are as heartbroken as it is possible to be."
Judge Lafferty told the 38-year-old killer: "Your view was that if you can't have her, no-one can have her, and you killed her.
"There is no sentence I can pass upon you today that will bring back Miss Parsons – a young, successful, vivacious and kind-hearted young woman, whose life was brutally taken by you."
Speaking after the hearing, Eve Parsons, 40, said her family was "disappointed" by the length of the jail term and would be lodging an appeal.
"Seventeen years does not do her justice," she added.